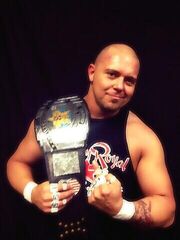 Demonic DJ
is an American wrestler and former Disc Jockey, currently signed to
Extreme Fanfic Wrestling
.
DEMONIC DJ

Some attributes

First
Height = 5"11
Second
Weight = 229lbs
Third
Hometown = Miami, Florida

Other attributes
Extreme Fanfic Wrestling
Edit
Demonic DJ made his debut on the 3rd edition of EFW, as part of a 15 man, Zero G Battle Royal to determine the first entrant in a 4 way elimination match at the first Ruthless Aggression Pay-Per-View to determine the first EFW Zero G Champion. In the Battle Royal, DJ eliminated 5 competitors (SGT Hardin, Hannah Layla, Shogun Yanai, Dark Hado and Madd Max) but came in second place after being eliminated by Duke Jackson. Later that night, GM, Henry Michaels, announced that Demonic DJ would be an entrant in the 4 way match, the other 3 being Duke Jackson, SGT Hardin and Thunderbolt. The following night, DJ teamed with The Circus Clowns to face Duke Jackson and the EFW World Tag Team Champions, The Misfits, but DJ's team were unsuccessful. The following week, DJ was meant to face Duke for the Zero G title but DJ attacked Duke before the match, leading to a no holds barred match made by the new Co-GM (Xander Taurus). The following week, DJ issued an open challenge to anyone in the Zero G division, which was answered by Furious Frye, DJ was unsuccessful. A few weeks later, DJ faced the debuting Randy Newton but was unsuccessful. At Supremacy X, DJ entered the ring using a turntable, wearing a new blue attire, successfully defended he Zero G title against Duke Jackson in a no holds barred match. The next month at Hardcore Hell Hole, DJ defended the Zero G Title in a 4 Way Elimination Match against Giant Guppy, Barberino and Randy Newton, which Newton won. DJ didn't make a PPV appearance until Endurance, competing in a 20 man Royal Rumble Match, entering at number 18, he was able to eliminate Suplex Salezza, however he was later eliminated by Brutal Barry. Demonic DJ made his next appearance in EFW 2 weeks later, when he faced the EFW Zero G Champion, Joseph Winters, in a losing effort, later that night, he was revealed as a member of Team Michaels for a 7 on 7 elimination tag team match at Summertime.
In Wrestling
Edit
Finisher:
Stunner
Paydirt (Jumping Complete Shot)
Signatures:
Diving Leg Drop
Ballin' Elbow
Entrance Music:
"Fight Music" by D12
Entrance Picture
Edit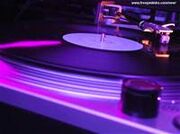 Championships and Accomplishments
Edit
EFW Zero G Champion (1 Time)