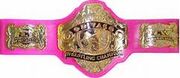 EFW Blossom Championship
EFW Blossom Championship

Some attributes

First
Current Champion = Jennfier Smith
Second
Date Won = 4/4/14
Third
Previous Champion = Ashley Marie Brooks

Other attributes

Fourth
Longest Reign = Ashley Marie Brooks (2 Months)

Shortest Reign = N/A

Fifth
First Champion = Ashley Marie Brooks
Sixth
Most Reigns = All Champions(1)
The EFW Blossom Championship is a championship in Extreme Fanfic Wrestling for the womans division. The inagural champion is Ashley Marie Brooks.
EFW GM, Henry Michaels, created the title for the EFW Blossom Division (Female Wrestlers). At the first Ruthless Aggression event, Ashley Marie Brooks won an 8 Blossom Gauntlet to win the title.
List of Blossom Champions
Edit