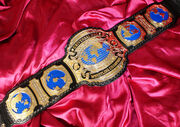 The
EFW World Heavyweight Championship
is a wrestling championship, used by
Extreme Fanfic Wrestling
. The inagural champion was Powerline.
EFW World Heavyweight Championship
The EFW World Heavyweight Championship

Some attributes

First
Current Champion = Bruiser Bencia
Second
Date Won = 25/5/14
Third
Former Champion = Thunder Long

Other attributes

Fourth
Longest Reign = Bruiser Bencia(6 Months)

Shortest Reign = CPL Wilczynski (Less than an hour)

Fifth
First Champion = Powerline
Sixth
Most Reigns = Andrew Wilczynski (2)
The championship was created at the primary title for EFW. The inagural champion decided at Ruthless Aggression in the finals of the EFW World Championship Tournament which was won by Powerline.
Champions
Edit